The holiday season can be an extremely challenging time, even for the most dedicated fitness enthusiasts. While Thanksgiving Dinner makes the holiday season extra special, indulging in unhealthy food all day long can reverse all the progress you've made throughout the year and take you back to square one.

It's best to approach Thanksgiving smartly and with a healthy mindset. The good news is that you can still enjoy all the delicious and mouth-watering dishes this holiday is known for, but you have to keep your fitness goals in check. To help you do that, we've compiled a list of 8 Healthy Thanksgiving Recipes that will make eating lighter easier and help in portion control without missing out on the traditional holiday flavors.

You'd be happy to know that we've covered the entire Thanksgiving menu, from appetizers to desserts, in the following blog post, so you can pick and choose whatever you like to create the perfect, healthy dinner for you and your loved ones. So let's get started!
1. Antipasto Sausage Skewers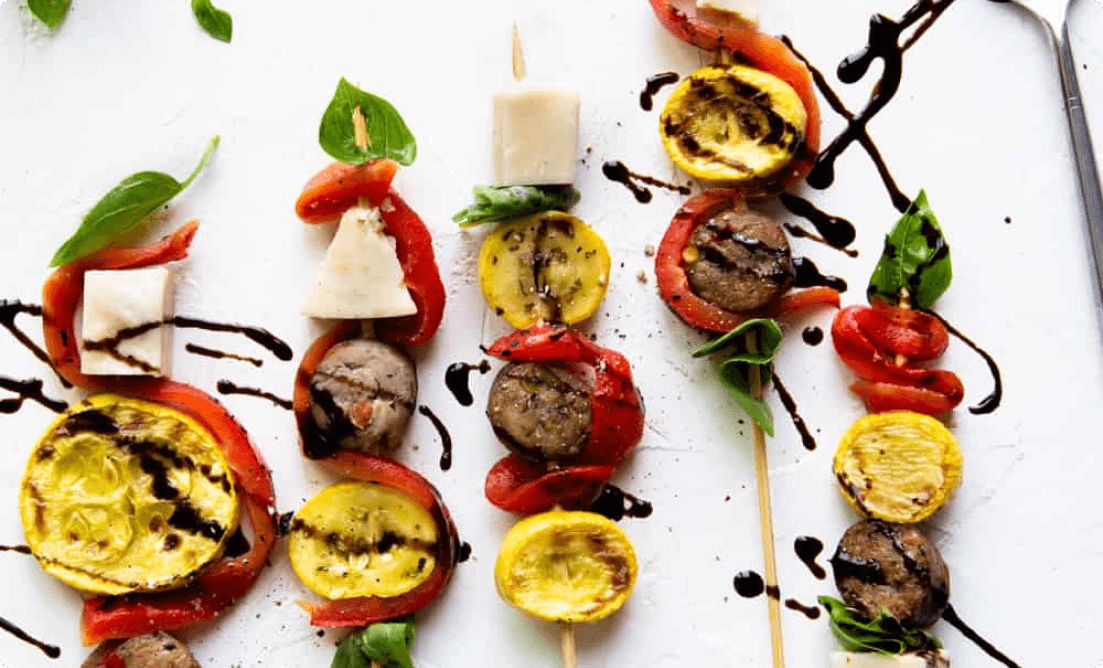 To compensate for the big holiday meal you will eventually devour, it's always a good idea to start small. Light bites made using fresh and seasonal ingredients are the perfect way to start the feast. While there are a variety of healthy Thanksgiving appetizers you could go for, we have our hearts set on the Antipasto Sausage Skewers. With only 35 calories per piece, these turkey or chicken sausage skewers make excellent finger food.
Recipe:

Prep Time: 20 minutes

Cook Time: 8 minutes

Total Time: 28 minutes

Yield: 24 skewers

Ingredients:
Nonstick cooking spray
12 ounces fully cooked Italian-style poultry sausage, cut into 1-inch pieces
½ cup lightly packed fresh basil
1 12-ounce jar roasted red peppers, drained, rinsed and cut into 1-inch pieces
⅔ cup sun-dried tomatoes, cut into 1-inch pieces if large
1 14-ounce can artichoke hearts, drained, and quartered
Directions:
Heat a nonstick skillet over medium heat; mist with cooking spray. Add the sausage; cook, turning 2 or 3 times, until warmed through and browned, about 8 minutes.
Thread 1 small or ½ large basil leaf onto a small wooden skewer. Add a piece of roasted red pepper, sun-dried tomato, artichoke and sausage, arranging them on the skewer so that it can stand up on the sausage end. Repeat with the remaining ingredients to make about two-dozen skewers.
Source: Foodnetwork.com
2. Green Bean Salad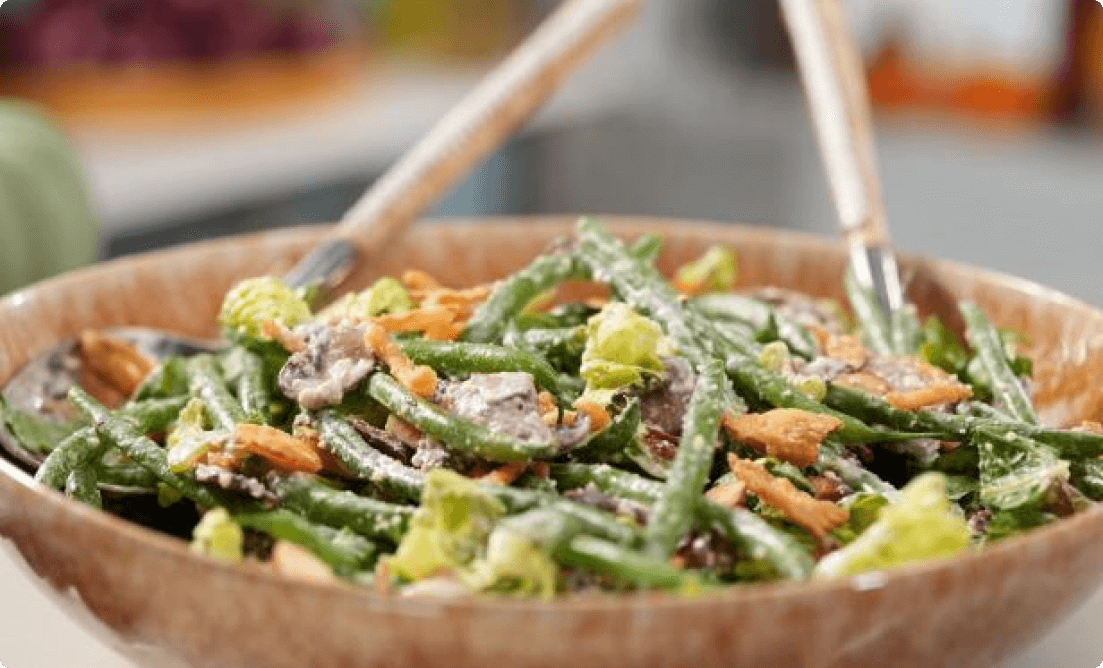 No Thanksgiving dinner is complete without a salad, and when it comes to salads, the Green Bean Salad recipe is definitely at the top of the list. It's a light and refreshing combination of fresh green beans, dried cranberries, toasted nuts and fried shallots with apple cider vinegar dressing. So it's safe to say it makes a delightfully tasty side dish. While the salad can be refrigerated for up to 24 hours and will taste just as delicious, it would be better to serve it within an hour of being dressed because that's when it looks its best!
Recipe

Prep Time: 5 minutes

Cook Time: 20 minutes

Chill Time: 30 minutes

Total Time: 55 minutes

Servings: 6

Ingredients:
Salad:

1 pound fresh green beans, trimmed
⅓ cup toasted nuts, chopped (I used walnuts)
⅓ cup dried cranberries



Dressing:

3 tablespoons apple cider vinegar
3 tablespoons extra-virgin olive oil
1 ½ teaspoons maple syrup
2 tablespoons minced shallots
1 teaspoon Dijon mustard
½ teaspoon sea salt
¼ teaspoon ground black pepper



Fried Shallots:

¼ cup olive oil, or avocado oil
1 cup sliced shallots


Directions:
Preheat the oven to 350°F. Add nuts to a small baking sheet and place in the heated oven for about 10 minutes to toast, until they are golden and fragrant. You can toast nuts whole and chop after toasting or toast chopped nuts. If your nuts are already chopped it will take less time for them to toast. This step is optional but recommended.
Blanch the green beans by bringing a large pot of water to a boil. Once boiling, add the green beans and cook for 2-3 minutes, until tender, but still have a slight crunch. Drain and add to an ice bath to stop the cooking process.
In a large bowl, whisk together apple cider vinegar, olive oil, maple syrup, minced shallots, dijon mustard, sea salt and pepper.
Add blanched green beans, nuts and dried cranberries into the bowl with the dressing. Toss to coat and refrigerate for at least 30 minutes to allow the flavors to blend.
While the salad is chilling, make fried shallots by slicing shallots into thin rings with a knife or mandoline. Add shallots and oil to a frying pan. Turn heat to medium-high and saute shallots for about 5-7 minutes. Turn the heat to medium-low and continue cooking for 3-5 more minutes or until shallots are golden and crispy. Keep an eye on them as they can burn quickly! Transfer the fried shallots to a plate or pan lined with paper towels or a clean dishcloth to soak up the extra oil. Let cool completely.
Once you're ready to serve, mix your salad together (the dressing will go to the bottom after sitting) and top it with the fried shallots right before serving.


Nutrition:
Serving: 1/6 recipe
Calories: 229kcal
Carbohydrates: 14g
Protein: 2g
Fat: 19g
Saturated Fat: 2g
Polyunsaturated Fat: 3g
Monounsaturated Fat: 7g
Sodium: 220mg
Potassium: 208mg
Fiber: 3g
Sugar: 7g

Source: eatingbridfood.com
3. Mashed Cauliflower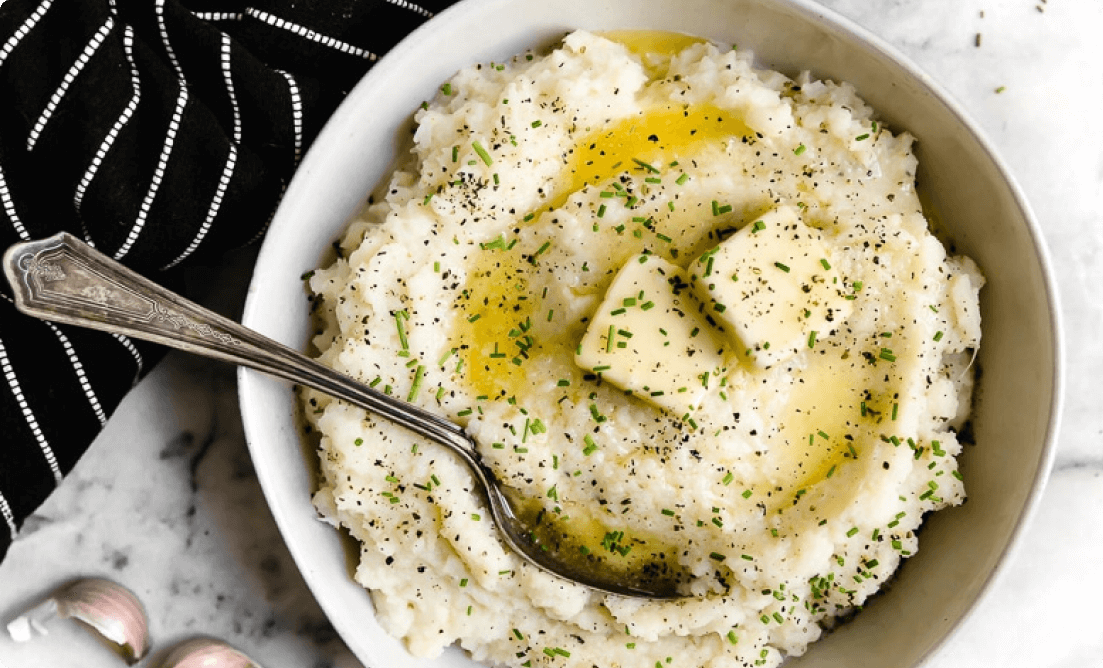 Mashed potatoes are one of the most favorite Thanksgiving sides, but if you're searching for a healthy alternative, swap potatoes with cauliflower to get a just as creamy and delicious result. The best thing is that this Thanksgiving dish has half the calories and one-third of the carbs of mashed potatoes, so it's a win-win!
Recipe

Prep Time: 15 minutes

Cook Time: 15 minutes

Total Time: 30 minutes

Servings: 4

Ingredients:
1 large head of cauliflower , chopped into florets (about 10 cups)
½ Tablespoon + 1 teaspoon ghee or butter, plus more for topping
2 cloves garlic , minced
¼ cup freshly grated parmesan cheese
½ teaspoon ground pepper, plus more to taste
1 teaspoon sea salt, plus more to taste
1 tablespoon fresh chives , chopped, plus more for topping
¼ cup reserved water

Directions:
Chop cauliflower into florets and place in a large pot. Add enough water to cover the cauliflower and heat until water is boiling. Reduce heat to medium-low and simmer until the cauliflower is tender, about 12-15 minutes.
While cauliflower is cooking, heat a small pan over medium heat. Add 1 teaspoon ghee or butter and minced garlic. Sauté until garlic is tender and fragrant. Be careful not to burn the garlic.
Before you drain cauliflower, scoop out ¼ cup water to save for later. Drain cauliflower and add to the food processor with sautéd garlic, ½ Tablespoon ghee or butter, parmesan cheese, salt, pepper and chives.
Process until cauliflower is smooth, adding water as necessary to reach desired consistency. I used 2 Tablespoons of reserved water. If you don't own a food processor, an immersion blender, standing mixer or potato masher would all work.
Transfer to a bowl, top with chives and additional butter/ghee if you prefer and serve.

Notes:
You will require a food processor. If you don't have one, you can mash the cauliflower using a stand mixer, blender or a handheld potato masher — the consistency just won't be as smooth. If needed, you can reheat the mashed cauliflower in a small saucepan before serving.
To make this dish vegan, swap the ghee for butter flavored coconut oil and use this hemp parmesan.

Nutrition:
Calories: 110kcal
Carbohydrates: 13g
Protein: 6g
Fat: 5g
Saturated Fat: 3g
Monounsaturated Fat: 1g
Cholesterol: 5mg
Sodium: 766mg
Potassium: 660mg
Fiber: 5g
Sugar: 5g

Source: eatingbirdfood.com
4. Herb-Roasted Turkey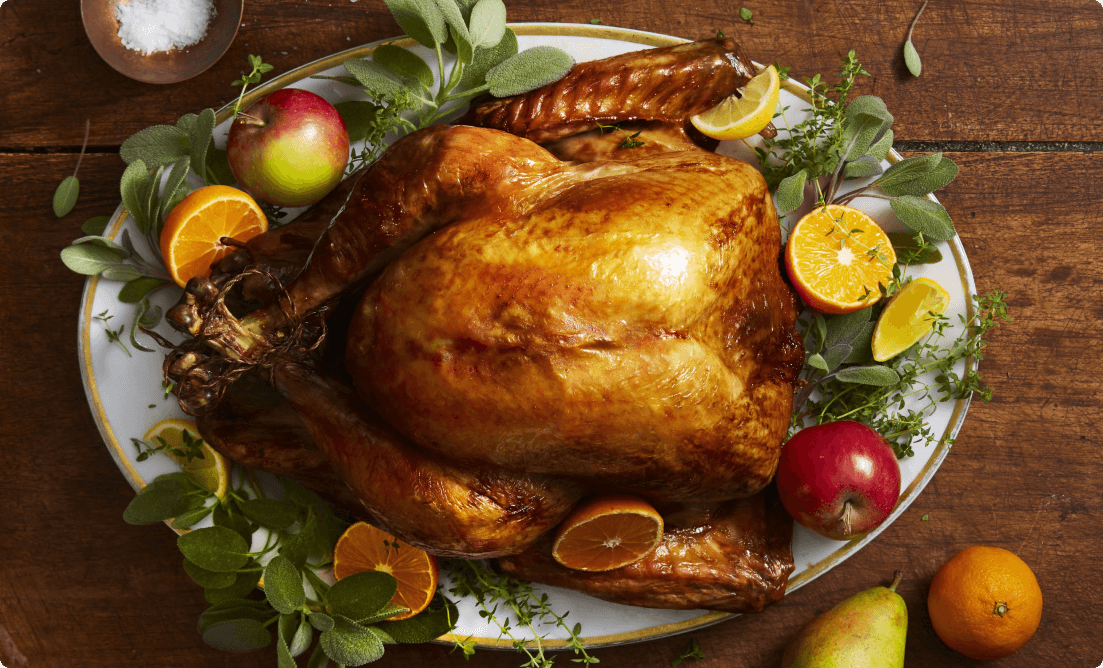 Dinner is incomplete without some good old-fashioned Thanksgiving Turkey but this year, try the Herb-Roasted Turkey, which is just as good as an oven-roasted turkey. You can further beautify it by adding some fresh herb sprigs and citrus wedges; it will surely look like the most exquisite dish on the table!
Recipe

Active: 30 minutes

Total Time: 3 hours, 30 minutes

Servings: 12

Ingredients:
1 10-12 pound turkey
¼ cup fresh herbs, plus 20 whole sprigs, such as thyme, rosemary, sage, oregano and/or marjoram, divided
2 tablespoons canola oil
1 teaspoon salt
1 teaspoon freshly ground pepper
Aromatics, onion, apple, lemon and/or orange, cut into 2-inch pieces (1 ½ cups)
3 cups water, plus more as needed

Directions:
Position a rack in the lower third of the oven; preheat to 475 degrees F.
Remove giblets and neck from turkey cavities and reserve for making gravy. Place the turkey, breast-side up, on a rack in a large roasting pan; pat dry with paper towels. Mix minced herbs, oil, salt and pepper in a small bowl. Rub the herb mixture all over the turkey, under the skin and onto the breast meat. Place aromatics and 10 of the herb sprigs in the cavity. Tuck the wing tips under the turkey. Tie the legs together with kitchen string. Add 3 cups of water and the remaining 10 herb sprigs to the pan.
Roast the turkey until the skin is golden brown, 45 minutes. Remove from the oven. Cover the breast with a double layer of foil, cutting as necessary to conform to the breast.
Reduce oven temperature to 350° and continue roasting until an instant-read thermometer inserted into the thickest part of a thigh without touching bone registers 165°, 1 1/4 to 1 3/4 hours more. If the pan dries out, tilt the turkey to let juices run out of the cavity into the pan and add 1 cup water.
Transfer the turkey to a serving platter and cover with foil. Let the turkey rest for 20 minutes. Remove string and carve.

Nutrition:
Serving: 3 ounces
Serving: 3 ounces
Calories: 172kcal
Protein: 25g
Fat: 7g
Saturated Fat: 2g
Cholesterol: 88mg
Vitamin A: iu 27IU
Vitamin C: 0.3mg
Folate: 8mcg
Calcium: 13mg
Iron: 1mg
Magnesium: 27mg
Potassium: 210mg
Sodium: 320mg
Exchanges: 3 1/2 lean meat

Source: eatingwell.com
5. Cauliflower Risotto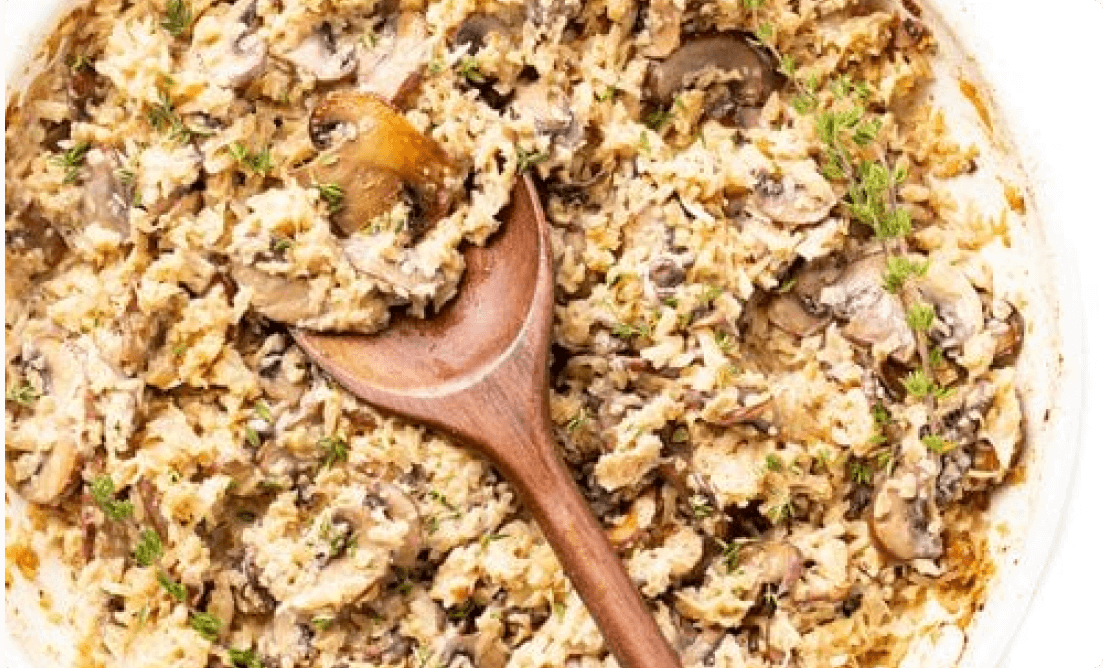 The Cauliflower Risotto is the perfect vegetarian, low-carb dish as it has only 1/3rd of the calories of the traditional risotto and just 11g net carbs. Filled with fresh mushrooms and cauliflower rice, you only need 9 ingredients and less than 15 minutes to prepare this flavorful dish!
Recipe:

Prep Time: 12 minutes

Cook Time: 12 minutes

Total Time: 24 minutes

Servings: 6

Ingredients:
2 lbs cauliflower 1 small head of cauliflower, cut into large florets
1.5 lbs brown mushrooms sliced
1 teaspoon avocado oil
1 small onion finely chopped
1 large garlic clove minced
1/2 cup chicken broth low sodium
1/2 teaspoon salt
Ground black pepper to taste
1/4 cup Parmesan cheese grated
1/4 cup mozzarella cheese shredded
3 tbsp parsley finely chopped

Directions:
In a food processor, add cauliflower florets in 3-4 batches and process until "rice" forms. The key to proper coarse rice texture is not to overcrowd the bowl of the food processor. Transfer to a medium bowl and set aside.
Preheat a large non-stick skillet on medium – high heat and add mushrooms. Cook until golden brown or about 5 minutes, stirring occasionally. Transfer to a medium bowl and set aside.
Return the skillet to medium heat and swirl oil to coat. Add onion and garlic, sauté until translucent or about 3 minutes, stirring occasionally.
Add cooked mushrooms, cauliflower "rice", broth, salt and pepper. Stir, cover and cook for 4 minutes. Turn off heat, add Parmesan and mozzarella cheese and parsley; stir until cheese is melted.
Serve warm with chicken of choice.

Source: ifoodreal.com
6. Green Bean Casserole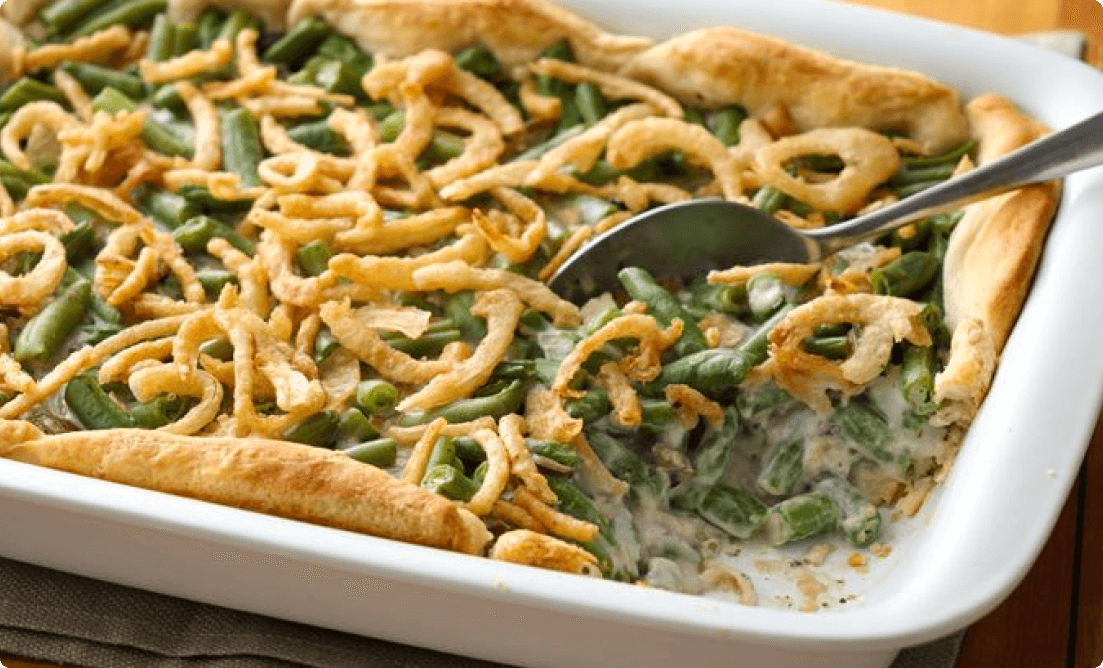 Another Green Bean dish has appeared in our blog, but that's because green beans are just so great! The Green Bean Casserole is made using fresh beans, creamy homemade mushroom sauce and gluten-free topping. This results in a low-calorie, low-sodium, high-flavour dish, making it a must-have for your Thanksgiving Dinner.
Recipe:

Prep Time: 15 minutes

Cook Time: 1 hour

Total Time: 1 hour, 15 minutes

Servings: 8

Ingredients:
Green Bean Casserole:

2 lbs green string beans trimmed and cut into 2'' pieces
10 brown mushrooms, sliced ~8 oz
1 tablespoon + 2 teaspoon oil for frying
Cooking spray

Pecan Onion Topping:

1 cup pecans finely chopped or crushed
2 large onions thinly sliced in half moon shapes
½ teaspoon oregano dried
¼ teaspoon salt
½ cup Parmesan cheese grated

Healthy Creamy Sauce:

2 ½ cups 3.25% whole milk
¼ cup Parmesan cheese grated
½ teaspoon oregano dried
½ teaspoon basil dried
¼ teaspoon thyme dried
¾ teaspoon salt
Ground black pepper to taste
2 tablespoon cornstarch

Directions:
Pecan Onion Topping: Preheat large non-stick skillet on medium heat and add pecans. Cook until fragrant, about 3-4 minutes, stirring occasionally. Transfer to a large bowl. Return the skillet to the stove and swirl 1 tbsp oil to coat. Add onions and cook for 10-12 minutes or until golden brown/almost charred, stirring occasionally. Transfer to a bowl with pecans.
Green Beans: Return skillet to the stove and swirl 1 tsp oil. Add green beans and a splash of water, stir, cover and cook for 10 minutes, stirring once. Transfer to another large bowl.
Mushrooms: Return skillet to the stove and swirl remaining 1 tsp oil. Add mushrooms and sauté for 5 minutes or until golden brown, stirring occasionally.
Creamy Sauce: While mushrooms are cooking, in a medium bowl add milk, 1/4 cup Parmesan cheese, oregano, basil, thyme, salt, pepper and cornstarch. Whisk together. Add to the skillet with mushrooms. Bring to a boil and cook until thickened a bit, about 4-5 minutes. In the meanwhile, preheat the oven to 375 degrees F and spray a medium baking dish with cooking spray. Turn off the heat, add green beans and stir to coat.
In a bowl with onions and pecans, add remaining Pecan Onion Topping ingredients: salt, oregano and 1/2 cup Parmesan. Stir well.
Transfer green beans to a previously prepared casserole dish and sprinkle with the topping. Bake uncovered for 25 minutes. Serve hot.
Nutrition:
Calories: 234kcal
Carbohydrates: 19g
Protein: 10g
Fat: 15g
Saturated Fat: 4g
Cholesterol: 12mg
Sodium: 485mg
Fiber: 5g
Sugar: 10g

Source: ifoodreal.com
7. Healthy Apple Crisp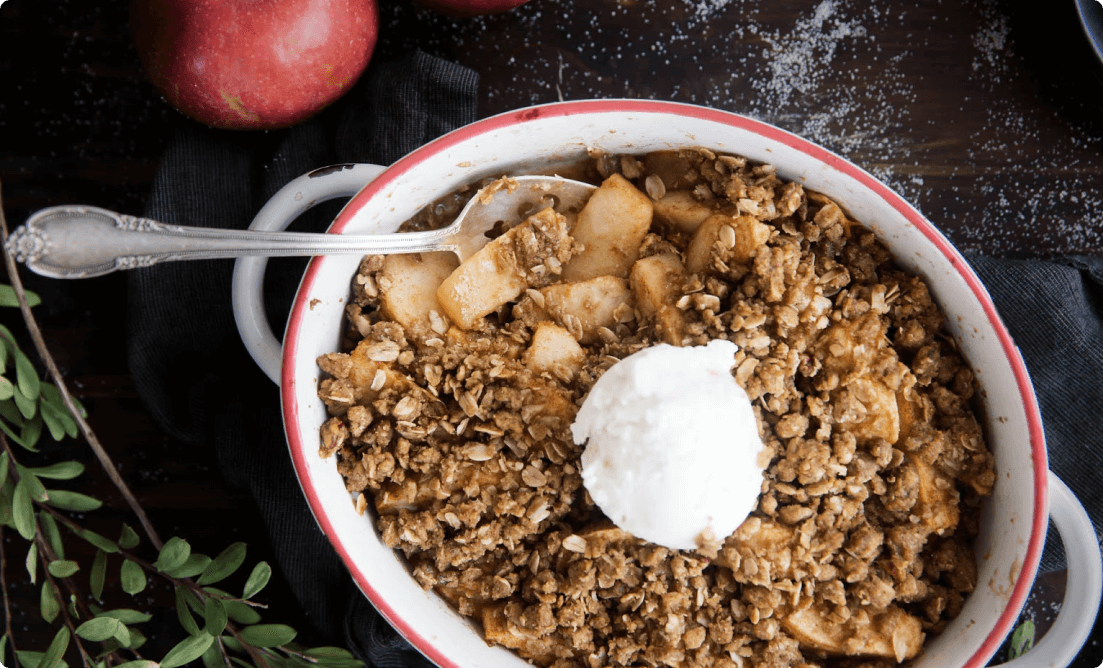 You know how the saying goes, "Dessert doesn't go to the stomach; it goes to the heart." Yeah, that might not be entirely accurate. Sure, dinner can't conclude without dessert, but you still should avoid heavy, high-calorie Thanksgiving desserts. If you're looking for a sweet and healthy Thanksgiving dessert, look no further than the Healthy Apple Crisp. Lightly sweetened with maple syrup and featuring a crunchy oatmeal topping, it is Fall family favourite and one of the most popular recipes.
Recipe

Prep Time: 20 minutes

Cook Time: 50 minutes

Total Time: 1 hour, 10 minutes

Servings: 12

Ingredients:
6 cups apples, about 6 medium apples, peeled and thinly sliced
¼ cup pure maple syrup
1 Tablespoon lemon juice
1 Tablespoon arrowroot powder or cornstarch
1 teaspoon ground cinnamon
⅛ teaspoon ground nutmeg
⅛ teaspoon sea salt

Topping
1 cup organic brown sugar or coconut sugar
1 cup rolled old-fashioned oats, gluten-free, if needed
½ cup almond flour
½ cup chopped pecans or walnuts
½ cup coconut oil, not melted, or vegan butter

Directions:
Preheat the oven to 350°F.
Make the topping by mixing together sugar, rolled oats, almond flour and nuts. Add butter or coconut oil and combine until the topping is crumb-like. Set aside.
Add apple slices to a large bowl with maple syrup, lemon juice, arrowroot powder, cinnamon, nutmeg and salt. Gently toss until all apple slices are coated.
Transfer the apple mixture to a greased 8×8 square baking dish or a 9-inch round pie pan.
Sprinkle crisp topping over the apple mixture.
Bake for 45-50 minutes or until the apple filling is bubbly and the top is golden. Check the crisp around 30 minutes in. If the crisp seems to be browning too quickly, cover with foil for the remaining 15-20 minutes.
Cool on a wire rack for 5-10 minutes.
Serve warm with ice cream or whipped topping.
Store in an airtight container. Leftovers will store well at room temperature for 2-3 days or in the refrigerator for up to 5 days.

Source: eatingbirdfood.com
8. Raw Pumpkin Pie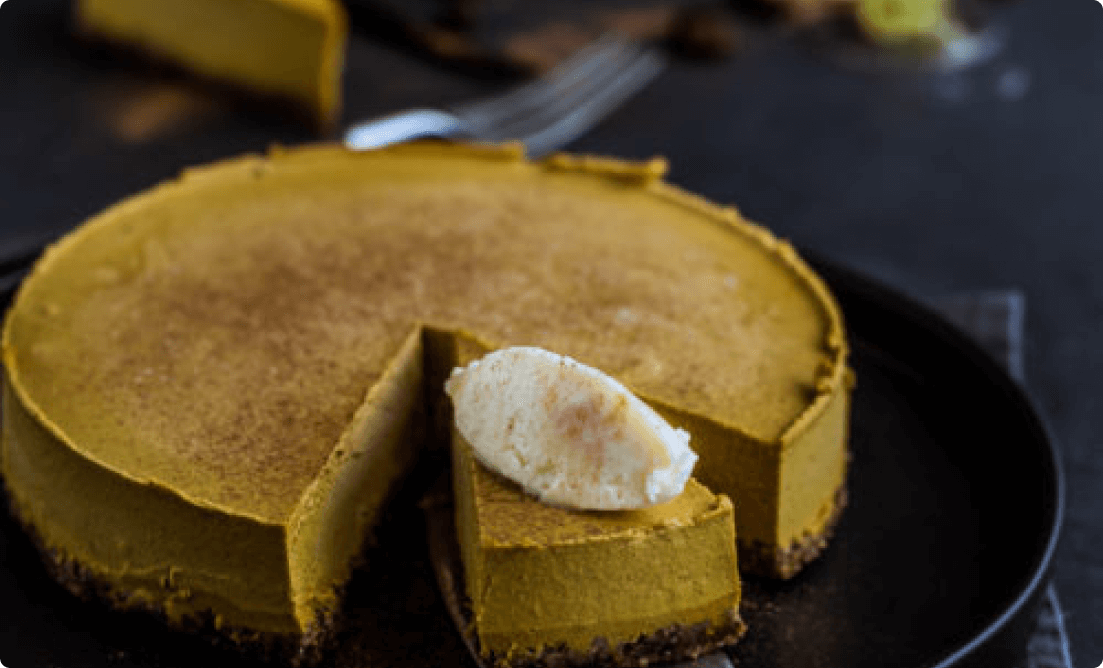 Another dessert we just can't get enough of is the No Bake Raw Pumpkin Pie. With a walnutty date base at the bottom and creamy cashew pumpkin custard at the top, this heavenly dessert is what it feels like to have all your dreams come true! And guess what? No baking is required! Plus, it's super low on calories.
Recipe

Prep Time: 20 minutes

Cook Time: 2 hours

Chill Time: 30 minutes

Total Time: 2 hours, 50 minutes

Servings: 8 bars

Ingredients:

For the Base:
1 cup raw walnuts
1 cup dates pitted, soaked in water 20 minutes and drained
1 tablespoon unsweetened apple butter
1 tablespoon unsweetened coconut flakes

For the Custard:
1 cup raw cashews soaked in water 20 minutes and drained
½ cup pumpkin puree
2 tablespoon maple syrup
½ teaspoon vanilla extract
1 teaspoon cinnamon
½ teaspoon ginger
¼ teaspoon nutmeg

Directions:
To a food processor, add the ingredients for the base. Process on high until the dates and ingredients are blended into a sticky ball.
Transfer the mixture to an 8.5″ baking pan lined with parchment paper. Use your hands to press the mixture into the pan into an even layer.
Place in the freezer while you prepare the custard topping.
Then place the ingredients for the custard in the food processor. Process on high until smooth then remove the pan from the freezer and spread the custard over it in an even layer.
Add optional toppings as desired then freeze 2-3 hours until the custard is hardened.
Once hardened, remove from the freezer and slice into 8 bars.
Bars keep in the freezer for up to 1 month.

Nutrition:
Per Serving: 230 calories
Carbohydrates: 21.6g
Protein: 4.6g
Fat: 15.1g
Saturated Fat: 2.7g
Sodium: 4.7mg
Fiber: 5.7g
Sugar: 14.1g

Source: skinnyfitalicious.com
Time to Get Cookin'!
Well, there you have it, folks. We promised you 8 Healthy Thanksgiving Recipes, and that's exactly what you got. So no more excuses, don't let the Holiday season get the best of you. Start looking into the ingredients and resources required to prepare a healthy feast and get cookin'! Thanksgiving is right around the corner; there's no time to waste.

If you need professional guidance while preparing Thanksgiving Dinner, our Fitness Nutrition Specialist and E3 (eating, exercise, and education) certified specialist, Mary Mileo, would be happy to help. You can avail these services by registering for our Vision Nutrition Program.

We wish you a happy and healthy Thanksgiving! May you be surrounded by good food, friends, and family and find the motivation to stick to your fitness goals.