It is clear from several studies that exercising is important for our physical and mental health, yet moms tend to push off making exercise a priority. Why? Because they have to juggle between so many different things, in turn, they neglect a very important aspect, that is, 'Self Care'. It must be remembered that taking care of your health and well-being benefits your life altogether, including your ability to be the best mom possible.

We are here to remind you of some very simple but important reasons to take some time out for a workout session in your busy schedule. Also, Vision sports club is excited to announce a number of special classes designed specifically for moms, keeping in mind their busy schedules, and not just that we have a special discount on our Vision nutrition program as well to help you get started on your fitness journey. Read till the end to know more about our project 'Fit Mom'.
Moms! Why Your Health Is Important
A mother's health is very important as a healthy mom is the foundation of a healthy family. After giving birth, many essential nutrients like calcium, Vitamin D, Iron and Folic acid etc., get depleted from your body. This is one of the most important factors why a mother needs to focus on her health post-pregnancy. Most mothers tend to put their needs aside in order to take care of their babies and the nutrients and energy they need to rebuild are forgotten. Doing so not only affects their daily responsibilities but also affects their ability to be the best mom. A healthy mom realizes that the wellbeing of her family starts with her. That's why prioritizing your health and fitness is so important.
How Can Moms Stay Motivated to Exercise?
Exercising is good for everyone. So, why shouldn't moms follow the same? After all, exercise is all about building confidence, strength, and eventually a healthy and fit lifestyle. It may also help in post-pregnancy weight loss if it is something you are looking for.

While it is easy to narrate a long list of benefits of exercising, however, we know that everyone struggles to stay motivated to exercise and when you have kids and a family to worry about, it gets even harder. Here are a few reasons to help you stay on track:
1. Working Out Can Help Fight Postpartum Blues
Moms tend to overthink all the time as there's a lot on their plate and the stress of being a mother is a lot to bear sometimes. Working out releases endorphins (Happy hormones) that can help blow off some steam, relieve your stress and fight the postpartum blues.
2. Exercise Time is Your 'ME' Time
Typically, when we think of 'ME' time, we envision things like sleeping, taking a hot bath, or other relaxing activities. But engaging in physical activities should also be on the list. Movement is just another way that we take care of our body and mind. Working out is the best way to spend some quality 'ME' time all while getting fit and healthy.
3. You Set a Good Example for Your Kids
Parents are role models for kids. So when you indulge in healthy habits your kids will follow in your footsteps and do the same. So working out is not only good for yourself but you are setting an example for your kids as well.
4. Exercise Gives You an Energy Boost
Regular exercise strengthens your heart, improves your circulation, and gives your body a boost of energy. This means working out will keep you fresh and less tired so you can carry out your day-to-day activities more efficiently.
5. Working Out Can Build Confidence
Being a mom means you have to face new challenges every day. A little confidence can help you in dealing with those challenges. Working out can help increase your confidence by improving your body image. While exercising you're likely to strengthen and tone your body and seeing these results can greatly improve your self-esteem and help you feel better about the way you look.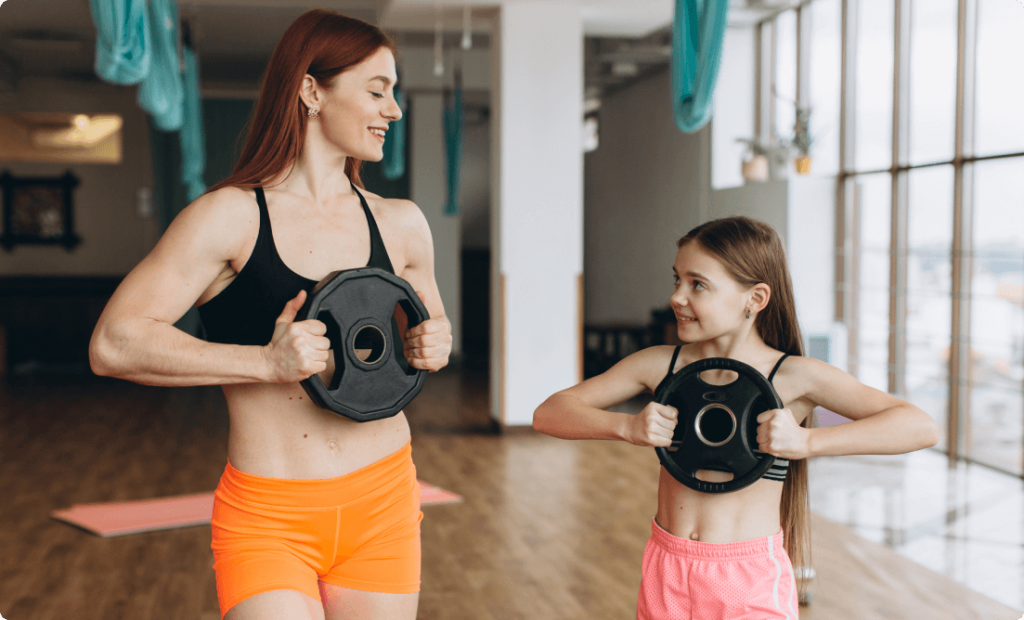 Tips to Incorporate Exercise in Your Day as a Mom
For moms, taking time out for exercise is nearly impossible as they have more pressing concerns at hand, like caring for their growing family or squeezing in a few extra moments of precious sleep. But remember that even just short bursts of exercise can leave you feeling reenergized and refreshed. We know that it can be hard to even imagine getting back into a workout routine, but there are creative ways to incorporate some physical activity into your schedule and lifestyle. Here are a few ideas on how to make exercise a part of your day.
1. New Moms! Consider a Walk With Your Baby
Put your baby in the stroller or a baby carrier sling and go for a walk. You can go to a park and do some jogging or just perform some mild exercise like tricep dips on the park bench or lift your little one out in front to activate your shoulders and engage your core.
2. Schedule Time for Exercise
Set a regular time in your day or week that is your time. Have your partner or a babysitter look after your child so you can go to a gym or get out for a jog around the neighborhood and enjoy some 'ME' time.
3. Find Online Exercises You Can Do at Home
There are tons of great and easily accessible streaming workouts and videos that you can access at home. Find a few exercises that you can perform at home while your child is sleeping or busy in some activities. You can also invest in some home workout equipment like free weights or jumping rope that will help you get moving.
4. Join a Gym That Offers Child Care
It is a great way to squeeze in a workout knowing that your child is in safe hands. Luckily, at Vision sports club we make sure to provide quality child care in a secure and welcoming environment, so parents can enjoy their workout to the fullest without worrying about their kids.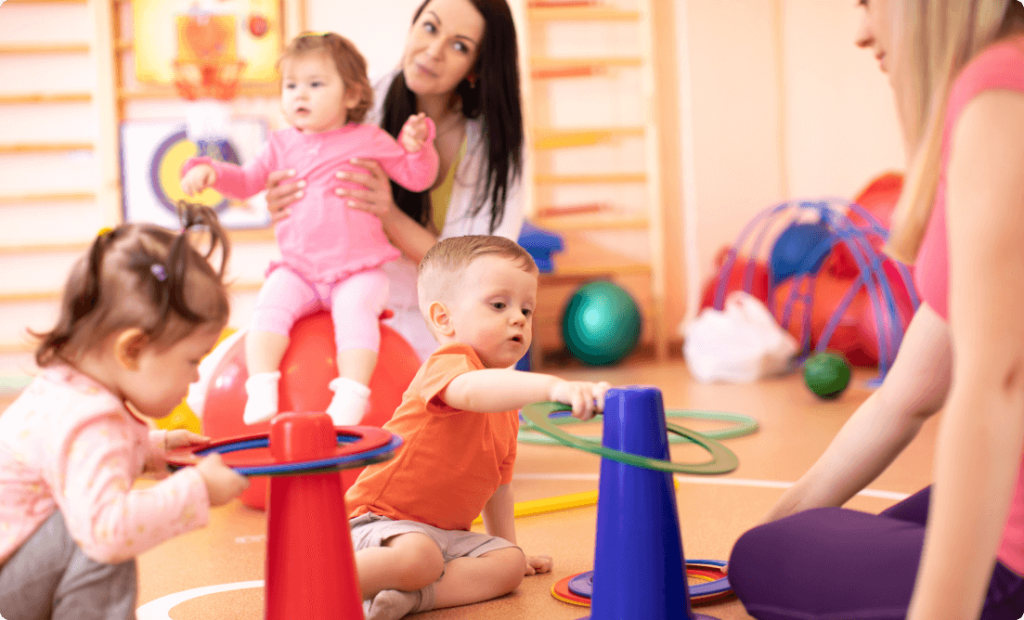 Project Fit Mom at Vision Sports Club
At Vision Sports Club, we strongly believe that mothers can do it all. You're already looking after your kids and spouse and you might even be working on top of that. What makes you think that getting back in shape is something you won't be able to manage?

Introducing Project Fit Mom! We designed this campaign keeping in mind the tight schedule of mothers. We understand that long workouts you enjoyed at the gym pre-kids would not fit into your current toddler-at-your-feet lifestyle. So we have come up with special short classes for moms so that they can achieve more in less time. Also, our Vision Daycare is open throughout the day so new moms don't have to worry about their little ones. Still not sure about joining? Why not avail our free pass and try our facilities/classes free for three days.
Group Classes to Try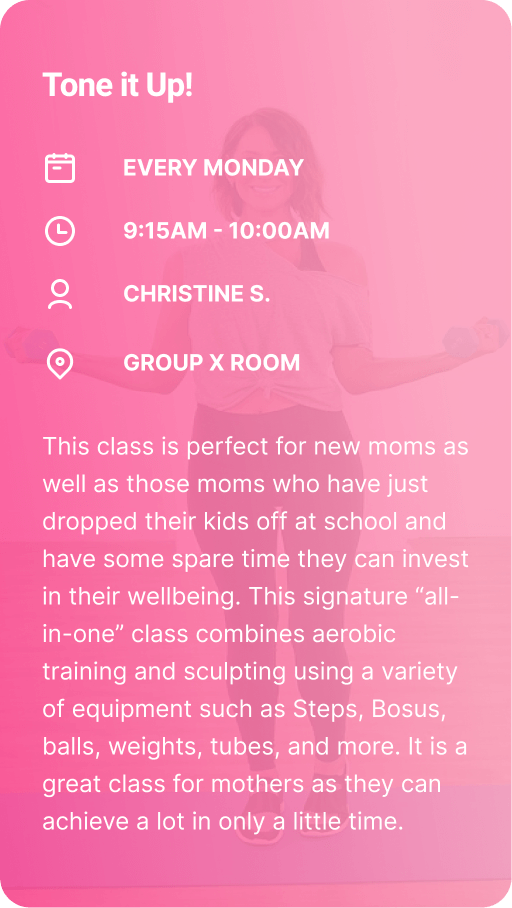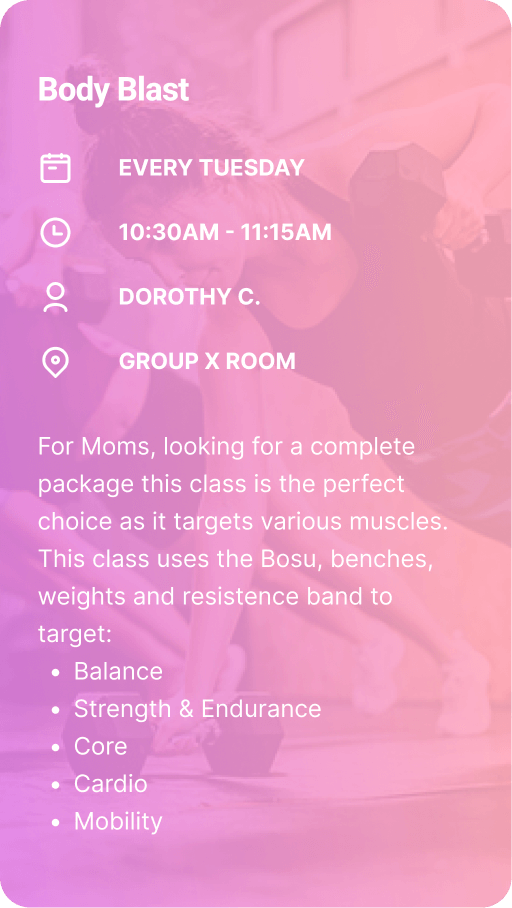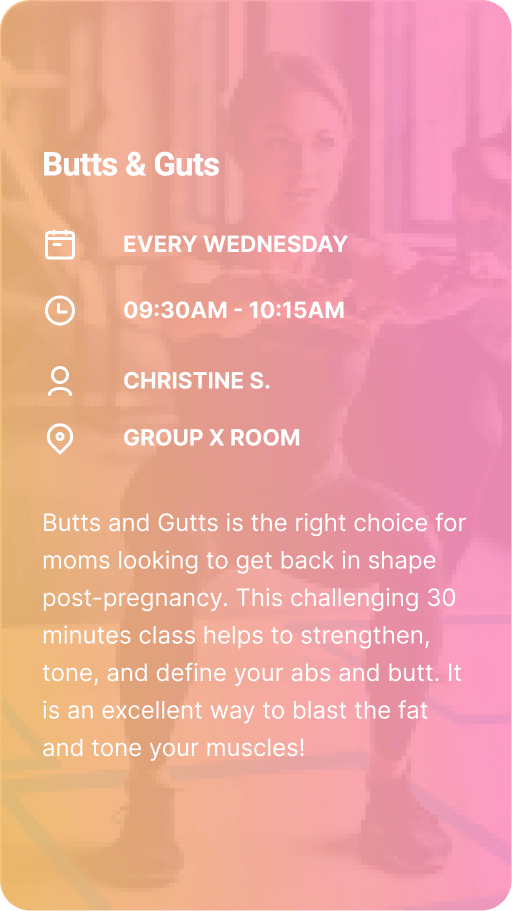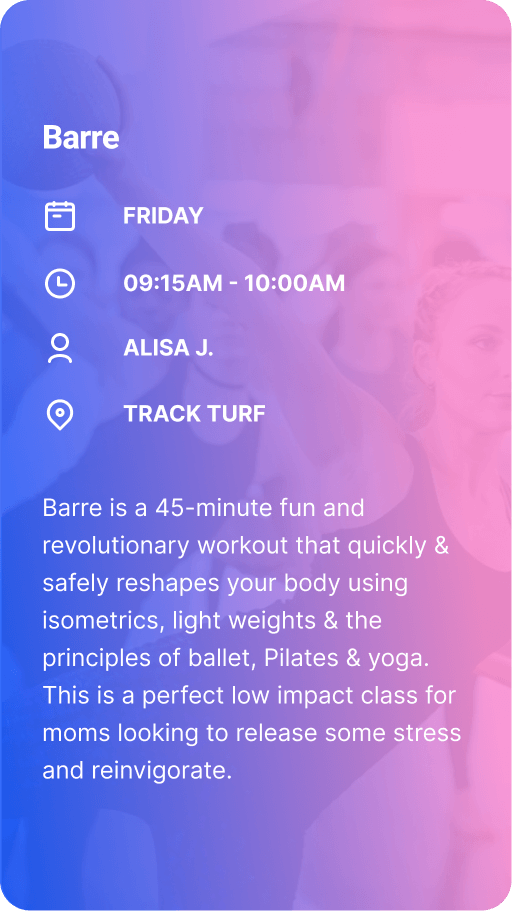 Vision Nutrition Program
Working out and consuming healthy foods go hand in hand to improve your overall fitness. It's vital that the food you are consuming aligns with your physical requirements, taste preferences, lifestyle, and personal fitness goals. So, in addition to offering special group exercise classes for moms, we have also come up with a discount on our nutrition program to help you get started on your fitness journey right away. Get a complimentary body fat testing session and $25 off when you sign up for our Weight management/Nutrition Program.
Final Thoughts
Remember, taking good care of your health is a worthy investment, not just for yourself but also for your family. The key to keep going is to take it one step at a time and don't be too hard on yourself. Start with simple steps but stick to a routine. You can do it, mom! have faith in yourself.