Yoga is an ancient practice that has stood the test of time and continues to be popular among people of all ages. Being a holistic practice, it can be adapted to suit different needs and ages, making it widely accessible and popular. At Vision Sports Club, we understand the diversity of our members and their varying needs when it comes to practicing yoga. Therefore, we offer 13+ Yoga classes so that we have something for everyone. This blog walks you through the various Yoga classes at Vision Sports Club and recommends the ones that best suits you according to your skills and aptitude.
Beginner-Level Yoga Classes: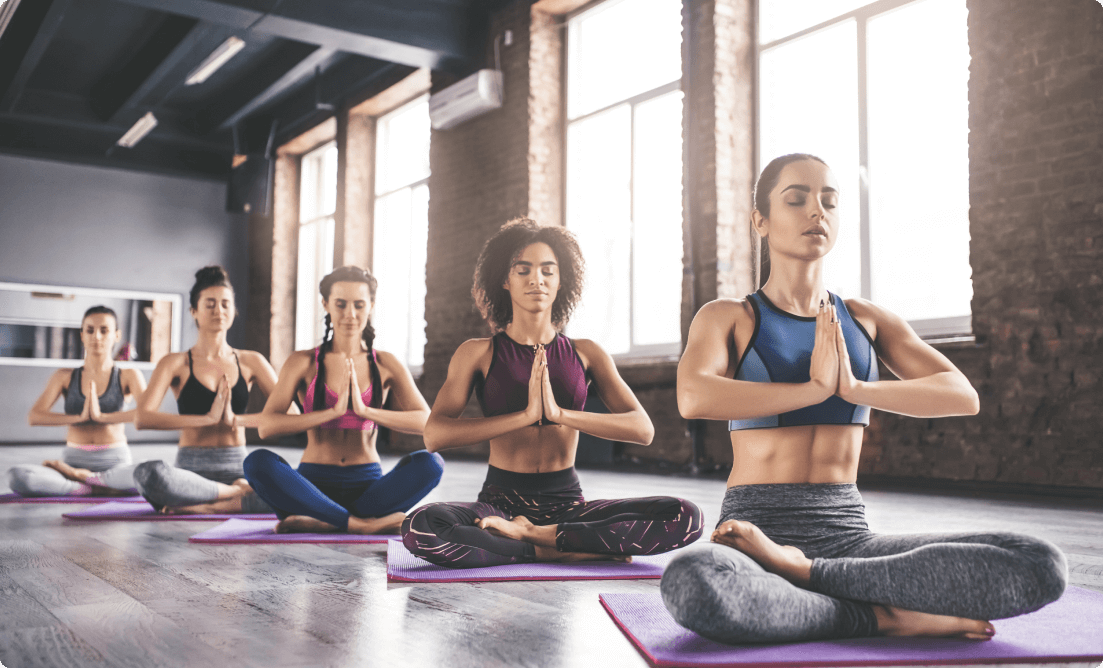 For those new to yoga, we offer Level-1 classes that focus on the basics of yoga postures, breathing techniques, and relaxation. These classes are designed to introduce yoga practice in a safe and comfortable environment and are the perfect place for those just starting out. Let's give you a tour of our beginner-friendly yoga classes:
1. Gentle Yoga
A Level-1 yoga class with a focus on gentle movements and breathwork. This class is perfect for those who want to improve their flexibility and balance and also for those who want to experience a calming and meditative practice. This class will solely include classic yoga poses and practices to help you reduce stress and increase your strength and flexibility.
2. Meditation
Meditation is a beginner-friendly class that helps you unwind and find peace in just 30 minutes. The class guides you through peaceful and mindful breathing exercises to help you de-stress, relax, and focus on the present moment. You will leave the class feeling refreshed, rejuvenated, and at peace. The class is easy to follow, accessible to all, and open to all ages and levels of experience.
3. Yoga Flow
Yoga Flow is specifically designed for beginners and is perfect for introducing yourself to the world of yoga. It is a gentle Vinyasa class that focuses on proper alignment and mindful movement, allowing you to develop a deeper understanding of your body and how it moves.

During the class, you will learn basic yoga postures and how to connect your breath with movement. This connection helps to increase flexibility, strength, and balance while also calming the mind and reducing stress. The class is taught at a slow pace, so you can fully understand and experience each posture before moving on to the next one.

This class also includes guided meditation and relaxation techniques, helping you quiet your thoughts and focus on the present moment.
4. Stretch with Straps
Stretch with Straps is a Level-1 yoga class that is designed for people of all ages and fitness levels. It is a low-impact and gentle form of exercise that focuses on using straps to assist in stretching and holding poses. The class is typically taught at a slow pace, allowing our members to focus on their breath and proper alignment.

One of the key benefits of this class is the use of straps, which can help to increase flexibility and range of motion while also providing support and stability during the poses. This is especially beneficial for people who are new to yoga or have limited flexibility.
5. Serenity Yoga
Serenity yoga is designed to help you develop a steady flow of linking movement through asana and mindful breath work. Our experienced instructors will guide you through each movement and breath, helping you develop a deeper understanding of your body and your breath. With regular practice, you will experience greater flexibility, strength, and balance, as well as a sense of peace and calm.
6. Sunrise Yoga
"Sunrise Yoga" is an early morning class that offers a serene start to your day. Specifically tailored for beginners, this session will introduce you to the Hatha series of asanas – a combination of poses and breathing techniques that promote overall well-being. These asanas will help you increase flexibility, sharpen your focus, and alleviate stress, leaving you feeling refreshed and energized for the day ahead.
7. Sound Bowl Meditation
Sound bowl meditation provide an opportunity to release stress and promote relaxation through a combination of guided meditation, conscious breathing techniques, and sound healing. The vibrations of the sound bowls create a soothing and harmonious environment that can help to reduce tension and promote inner peace. This practice targets specific areas of the body and mind that can help release blockages and promote balance and harmony. This class is a great way to learn how to effectively manage stress and promote overall well-being.
Intermediate & Advanced Level Yoga Classes: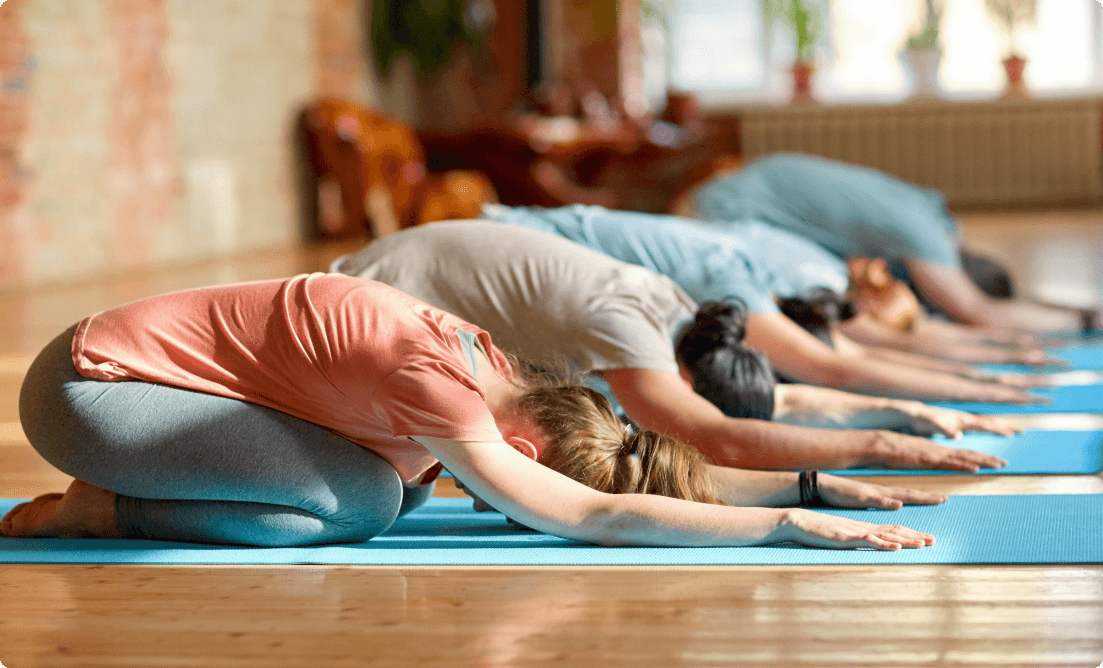 As our members progress in their practice and feel comfortable with level 1 classes, we offer the next step with our Level 2 and Level 3 classes. These sessions focus on building strength, flexibility, and balance, and are designed to challenge the body and mind. They are perfect for those who are looking to take their practice to the next level.

Here is a list of some of our Intermediate & Advanced level yoga classes:
1. Yoga Sculpt
Yoga Sculpt, a Level-2 class is an ideal blend of physical fitness and mental well-being, offering both a fat and calorie-burning workout and the numerous mental benefits of traditional yoga. This unique form of exercise combines elements of power yoga and strength training to provide a comprehensive full-body workout. It is a great way to enhance your overall fitness and to improve your mental and physical well-being.
2. Hot Detox Yoga
A hot detox yoga class is an intense and transformative experience that is designed for practitioners at Level 2/3. The room is heated to over 100 degrees which will cause you to sweat profusely. The class is intended to enhance your current training and fitness program, and will leave you feeling energized, empowered and renewed. The heat in the room allows for a deeper stretch and release of muscle tension, increasing blood flow and helping to rid the body of toxins, promoting overall well-being.
3. Vinyasa Flow
A vigorous vinyasa-style yoga class, designed for practitioners at Level 2/3, is meant to challenge you both physically and mentally. This class will push your limits and help you build strength, endurance, and focus. Expect to work up a sweat, and to leave feeling challenged, yet accomplished. This class is usually fast-paced, with a focus on linking conscious breath with dynamic fluid movement, it helps increase cardiovascular fitness and build heat in the body. It is suitable for those with some yoga experience, looking for a more challenging practice. The continuous flow of postures and the fast pace will challenge your focus and mental stamina in addition to your physical strength.
4. Power Yoga
Power yoga is a challenging and dynamic practice designed to physically and mentally push you to your limits. This class is typically fast-paced and focuses on vinyasa-style movement, which emphasizes linking movement with breath. Power Yoga is meant to increase strength, endurance, and the ability to focus on a task for a long period of time without breaking concentration. Through a series of challenging postures, power yoga helps to build muscle, improve flexibility, and boost overall fitness.
Community Yoga (For all Levels):
A community yoga class is a wonderful way to give back to those in need while also practicing yoga. This class is fee-based, and all proceeds are donated to different charities. The class will feature a mix of both new and seasoned instructors, each bringing their own unique perspective and teaching style to the class. Additionally, the class may include different formats such as yoga for beginners, yoga for seniors, or prenatal yoga, as well as other specialized formats that cater to different needs and skill levels.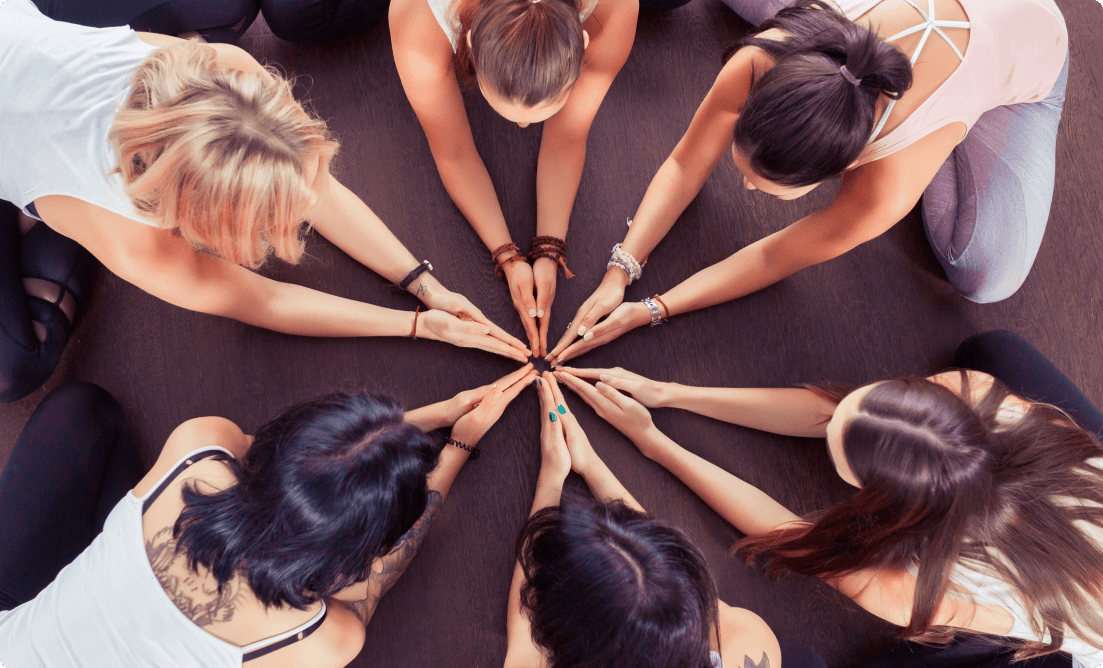 Sign Up Today!
At Vision Sports Club, we believe that yoga is for everyone, and we strive to provide a wide range of classes to accommodate the needs of our members. Whether you are a beginner or an advanced practitioner, we have a class that is perfect for you. Our instructors are highly trained and dedicated and provide personalized guidance to help you maximize your practice. They will also offer modifications and hands-on adjustments to accommodate all levels, ages, and body types, creating a safe and supportive environment for everyone. So come and join us for a yoga session today, and experience the many benefits of this ancient practice!
YOGA/PILATES

SCHEDULE

*All classes, times and instructors subject to change and/or cancellation.